August 12, 2015
The tale of a sweet girl and her sweet cat
Update:  I'm so happy to say that Dolce has a new home and is being well taken care of.  We miss her!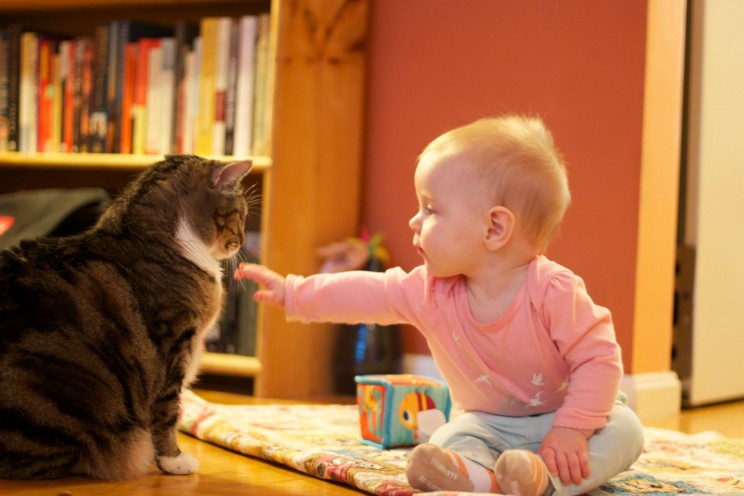 The girl called her "kitty" at first.  A few months later, "kitty" became "meow."  The cat was very hesitant at first and did not know what to make of the little girl when she came to live at the house. She was curious about the girl and wondered why she cried sometimes. Then, the girl could finally pronounce "Dolce", although some days it still sounds more like "Doll-see".
Over the months, the girl and the cat bonded. The girl loved to help feed and brush the cat. The cat taught the girl to love animals. The cat was patient with the girl as she learned what it meant to be gentle. The cat became friends with the girl and played along with her toys.
A month or so after turning two, the girl's eyes got puffy and her skin became dotted with hives. Allergies are rough. And, this week, we learned that the girl is allergic to all kinds of tree…..and also to cats.  Her mom had tears in her eyes when she saw the allergy results. Sadly, the girl reacts too strongly to the cat to keep the cat in the house. The girl and her parents are trying to find a new home for their cat.
Dolce is a seven-year old female indoor calico that we adopted as a kitten from the MSPCA in Jamaica Plain in November 2008.  She has a clean bill of health and is up to date on all her shots.  Hence the name, she is actually a very sweet and cuddly cat who will curl up in warm laps. She can be a little shy when meeting new people and would do best in a home with older kids (or really patient young ones) and without other pets. She enjoys bird-watching from the window, napping in boxes, playing with toys on strings, and chowing down on her favorite Grilled Salmon Dinner by Fancy Feast.  As an added bonus, she is an expert mouse catcher (in our old apartment). Dolce – 3  Mouse – 0   If you know someone looking to adopt a cat, please let us know.